Austin is a unique and exciting city for cinema, and as such there's lots of films and cinema-related events to choose from. These weekly posts will cut through the mainstream releases to highlight the Top 5 cinematic events to check out each week
Big Screen Classics: Yojimbo
Akira Kurosawa's action masterpiece returns to the big screen for one night only, and in 35mm, no less. The legacy of this film really can't be understated. Unofficially remade as the first part of Sergio Leone's Man with No Name trilogy (For a Fistful of Dollars) and influencing countless others, the film features Toshiro Mifune in the defining role of his career, and Kurosawa at his most confident and energetic as a filmmaker.
Alamo Drafthouse Ritz, April 24th

Mud opening weekend
Ever since exploding onto the scene with Shotgun Stories, Jeff Nichols has proven himself to be one of the most exciting new filmmakers of this generation. Each of his films features a rich, multi-layered look at the working class of America, and the struggles and anxieties they face on a daily basis, and his latest film is no exception. A beautiful marriage of Mark Twain, Terrence Malick, and the Australian New Wave, Mud is a meaningful and potent film featuring what may be Matthew McConaughey's best performance to date, and is a must-see from one of Austin's sons. For more, check out my review from SXSW here.
Opens April 26th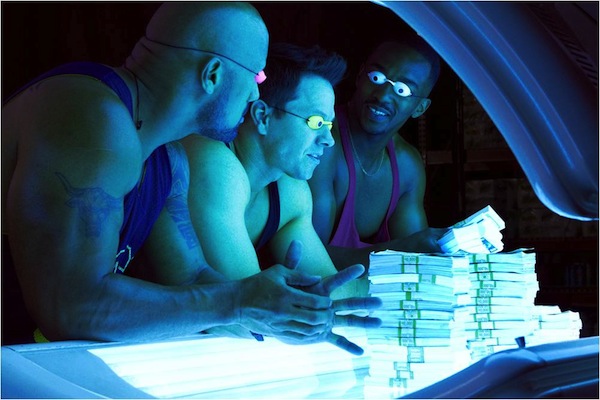 Pain and Gain opening weekend
Those of you who didn't attend Sunday's BAYMAGEDDON, and thus missed out on the opportunity to see Pain and Gain early: fear not, for the film opens this weekend in plenty of time to catch up. Eschewing the goofy self-seriousness of Bay's last few films, Pain and Gain takes all of the vulgar auteur's indulgencies and throws them into a complete farce, making for an endlessly entertaining film, and in a complete surprise from Bay, has some actual nuance and things on its mind. I mean, the tagline for the film is "Their American Dream is Bigger Than Yours". Could there be a more perfect mission statement from Bay as a filmmaker?
Opens April 26th
Drafthouse Films: Graceland
After a successful debut in the festival circuit last year, Ron Morales' twisty abduction thriller finally hits theatres in the US this weekend. An airtight tale of deception and class, it's the kind of film Michael Mann or David Fincher would have been proud to make in their early careers, and one worth checking out to see the vision of a new genre artist on the block.
Opens in theatres April 26th, currently available on VOD
70mm at the Ritz! Year of the Dragon
Michael Cimino's follow-up to the infamous bomb that was Heaven's Gate comes to the Alamo this weekend, in an extremely rare 70mm print. While a polarizing film at the time, the film is currently experiencing a critical reevaluation of sorts, spurred on by the likes of Quentin Tarantino and others citing the film as a favorite, and there's no better way to give the film a first or second shot than in a stunning 70mm presentation.
Alamo Drafthouse Ritz, April 27th & 28th
What are you seeing this week?