New York City may get all the new releases first, but there's a lot more to the film culture here than just what's in the mainstream theaters! Every week we bring you the top 5 cinematic events to check out.
1.) Foxy: The Complete Pam Grier (Film Society at Lincoln Center)
From their website: "With a personal, commanding, infectious charisma combined with an exquisite organic beauty, Pam Grier beamed off the movie screen with the intensity of a high powered searchlight in the Los Angeles night sky. The Film Society is delighted to welcome this iconic leading lady, who made such a delectable mark during one of the most adventurous eras of American mainstream cinema. Grier will be in person at screenings throughout the weekend!" It's Pam Grier. Get thee to Lincoln Center. (Also, she'll be appearing in person.)
Friday March 15th—Sunday March 17th
2.) Body Double (Nitehawk Cinema)
Brian De Palma's Very Brian De Palma 1984 picture screens at Williamsburg's Nitehawk Cinema Friday night. It's got Hitchcock homages, Hitchcock thievery, uncouth sex, the whole megillah. If you're already a De Palma fan, I need say no more. If you're yet to figure out whether you are or not, this is an uncompromising litmus test. Y'know, in a good way.
Friday March 15th, 12 midnight
3.) Design Film Fest (SVA Theatre)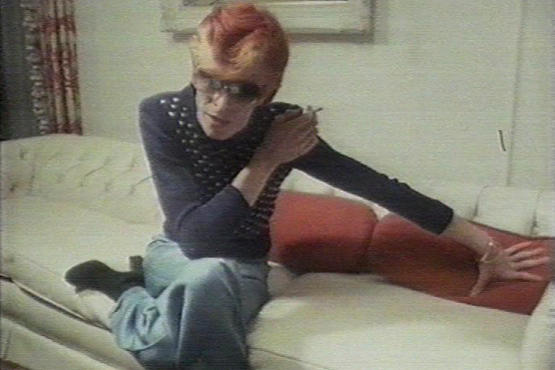 From Time Out NY: "Anglophiles and doc junkies, grab your popcorn and settle in for a full day of rare BBC. Many of the design-themed flicks will be making their U.S. debut, including The London Underground Map (1987), which tells the story behind those iconic colorful squiggles; Chelsea Hotel (1981), depicting members of the artistic community that resided there, such as Andy Warhol and William S. Burroughs; and Cracked Actor (1974), in which David Bowie delves into mime, Kabuki and how he created alter ego Ziggy Stardust."
Sunday March 17th
4.) Man With a Movie Camera (Museum of the Moving Image)
New, restored 35mm print, which is great, live piano accompaniment, which is nice, and also it's Dziga Vertov, which is mandatory, kids. Any complete cinema education requires seeing Chelovek s kinoapparatom, and it's not like eating your vegetables either: the images are stunning, and you will know what cinema is after seeing this.
Sunday, March 17th, 3pm
5.) Le Petit Soldat (Film Forum)
Speaking of Dziga Vertov, here's who named his filmmaking collective after the great man, Monsieur Jean-Luc Cinema Godard himself. Also a new 35mm print, Godard's fourth feature has politics, love, great Raoul Coutard cinematography, Anna Karina. Also, seeing a Godard picture at Film Forum is kind of like getting to be a double New Yorker, so hop to.
Tuesday March 12th—Thursday March 14th