Austin is a unique and exciting city for cinema, and as such there's lots of films and cinema-related events to choose from. These weekly posts will cut through the mainstream releases to highlight the Top 5 cinematic events to check out each week.
1) Action Pack: Dazed and Confused Quote-A-Long
Alright, alright, alright. Time to celebrate a landmark genre classic from one of Austin's most prominent children, Richard Linklater. And what better way than with a Quote-A-Long? Featuring subtitled quotes, song lyrics, and paddles, and other props (weed won't be provided), it's a homegrown Austin event you can't miss.
Alamo Ritz, 02/28/2013 (Tickets)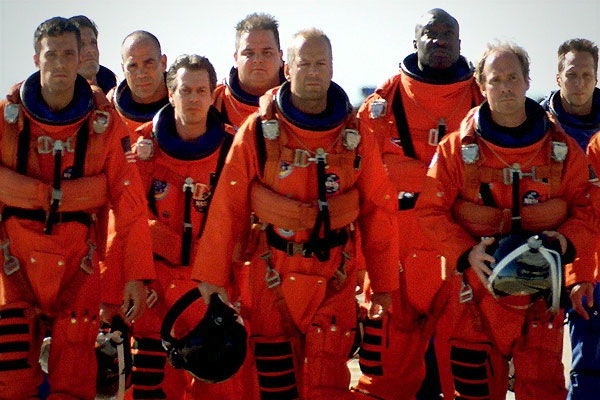 2) Master Pancake: Armageddon
There are few films as famous and as scientifically and logically preposterous as Michael Bay's Armageddon. Bloated, lacking a shred of self-awareness, and completely and utterly silly, it's a film that's easy to tease, but you're never seen it as hilariously mocked as you will with the Master Pancake maestro. So come out to the Alamo Ritz and prepare yourself for one of the funniest cinematic events Austin has.
Alamo Ritz, 3/1-3/2 (Tickets)
3) Austin Premiere: Any Day Now
Winner of the Audience Award at Tribeca, director Travis Fine's newest film is a tender and resonant tale of injustice, love, and family, touching on social issues as relevant today as they were in the 1970s. Following a gay couple that decide to take in a teenager with Down Syndrome abandoned by his mother, the film features a pair of extraordinary performances by Alan Cumming and Garrett Dillahunt as the couple who simply want to give a child the home and family he deserves.
Paramount Stateside Theatre, 3/4 (Tickets)
4) Big Screen Classics: Roman Holiday
An enduring masterpiece of romance and rebellion, William Wyler's Roman Holiday turns 60 this year, and the Alamo Drafthouse could not be more excited to be screening it for its birthday. Relentlessly fun and beautifully picturesque, the film has stood the test of time to become one of the defining works of cinema, and something no cinephile in their right mind should miss out on.
Alamo Ritz, 3/2-3/5 (Tickets)
5) SXSW Festival 2013
This one is a bit of a cheat, considering it happens a couple of days after this week, but because it's the only thing happening next week, I couldn't help but spread the word. The SXSW Festival is a huge event for Austin, bringing filmmakers, musicians, innovators, and artists together for a week to share their visions. A huge source of revenue for the city, as well as yet another event defining it as the cultural capital of Texas, and the live music capital of the world, it's an event like no other that you simply cannot pass up. This year's lineup in film and music looks insane, and I'll be providing coverage for it all the entire time.
Austin, TX, 3/8-3/17 (Tickets)
So that about covers it for this week. What will you be seeing?